Comprehensive Physical Exam
VKP Medical's team of medical professionals start by completing a comprehensive physical examination. This allows us to determine what your needs are and how to tailor our treatments to your specific needs. Our experts will listen carefully as you explain any medical concerns and take a detailed medical history to ensure that everything is recorded. The goal is to fully understand how your injury occurred and how it is affecting your daily functioning. The comprehensive physical examination helps us pinpoint where your pain is originating and develop the appropriate care plan. 
Electromyography and Nerve Conduction Studies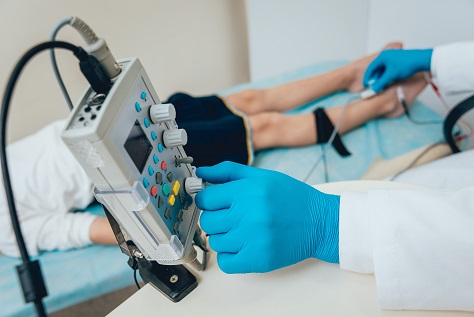 In addition to a comprehensive physical examination, diagnostic tests such as Electromyography (EMG) and Nerve Conduction Studies (NCS) help our team to pinpoint the specific muscles or nerves that are causing your pain. EMG and NCS measure electric current and voltage to specific which muscles and nerves are affected and understand the severity of the injury. These cutting-edge diagnostic tools allow our team to come to an accurate diagnosis to develop a care plan that is tailored to you.
Epidural Steroid Injections
Epidural Steroid Injections (ESIs) can be used to manage neck, hip, and back pain when Physical Therapy is not effectively reducing pain, especially if the pain is too severe. ESIs differ in that they relieve the pain enough to allow patients to complete the physical therapy exercises and treatments required to treat the root cause. ESIs make you more comfortable as you work to heal damaged nerves, tendons, muscles, or joints. ESI is a minimally-invasive procedure that can provide quick, short-term relief from chronic pain and injuries when used in conjunction with our other forms of treatment.

Trigger Point Injections/Soft Tissue Injections
Trigger Point Injections or Soft Tissue Injections are another common treatment we use at VKP Medical. Trigger Point Injections are designed to address painful knots or muscle spasms that may form in the arms, legs, back, and neck when muscles can't relax. By decreasing inflammation and muscle tension, Trigger Point Injections provide considerable pain relief. 

Joint Injections
Joint Injections are what we use at VKP Medical when a patient's pain is related to arthritis or joint pain. Joint Injections reduce inflammation and swelling, while also helping you regain flexibility. This is a minimally invasive procedure during which a steroid medication is injected into the affected joint, which then provides rapid pain relief. If you have pain or inflammation in the shoulder, elbow, wrist, hand, foot, or knee, Joint Injections may be the ideal treatment option.

Medical Marijuana
Dr. Pilly is certified by New York State (NYS) to prescribe Medical Marijuana. In NYS Medical Marijuana has been legalized to help treat and reduce chronic pain and serious health issues. According to studies, medical marijuana has proven to be safe and also have significantly less side effects than opioids when treating and providing relief to chronic pain and symptoms resulting from injuries, Cancer, Asthma and other serious health issues. In order to receive this treatment you must have received approval with the NYS approved card.

Workers' Compensation Permanency Evaluations/Disability Impairment Rating
At VKP Medical, our team can evaluate you through a comprehensive physical evaluation to determine the severity of your impairment if your injury is related to work and it permanently impairs your ability to work. During a Workers' Compensation Permanency Evaluation, each injured area is rated based on the severity of impairment, which is known as the impairment rating. New York State then determines the amount of monetary compensation you are eligible to receive based on our team's impairment ratings. We understand that this can be a confusing process, and our experience team is here to guide you through the necessary steps to receive the help you need.